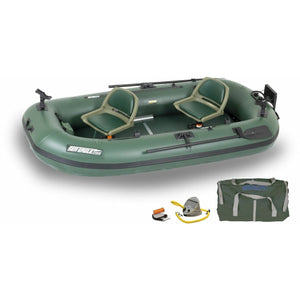 Estimated Arrival: Between Dec 03 and Dec 06.
Shipping Type: Curbside Delivery (left at your front door or porch) - buyers can upgrade to inside delivery or white glove service for an extra fee. Contact Us
The Hunter Green Stealth Stalker 10 is a new kind of fishing boat equipped for use in various fishing conditions... on rivers, lakes, bays...in calm or rough weather. Comfortable for two, easily handled by one!
This roomy, portable, light weight boat features a fully enclosed hull for use on almost any body of water. Wide sectional floorboards provide plenty of fishing space and a conveniently located stow bag makes for easy access. With 2 built-in 40" Fish Rulers on the pontoons, measuring fish will be quick and easy.
Utilizing a round-hull configuration with an inside cockpit this enclosed boat gives anglers a safe secure feeling while fishing in calm or rough seas. A truly stable and functional fishing craft that can be used in a wide range of fishing and water conditions.
Person Capacity: 4
Hull Weight: 45 lbs. 
Length: 10 ft. 1 in.
Width: 5 ft.
Interior: 7' 6" x 2' 4"
Load Capacity: 4 Adults or 1200 lbs.
Deflated: Approx. 31" x 40" x 9"
Chambers: 3 (port side, bow, starboard side)
Tube Diameter: 16"
Air Valves: 3 Recessed One Way
Inflation time: 15 Minutes
Seam: Quadruple Overlapping Superior Glued Seams
Material: 1000 Denier 36 mil
Floor: 1000 Denier Reinforced
Speed Estimates: 3-4 mph
Inflation Pressure: 3.2 psi
Video URL: https://www.youtube.com/watch?v=zKvbdCdnuV4&feature=emb_logo
Instructions URL: https://www.seaeagle.com/img/InstructionalPDF/StealthStalker10.pdf or https://www.youtube.com/watch?v=k1Gtx38gAL4&t=593s 
NEW Floor Drains
Now featuring two twist on & off floor drains to help remove water quickly and easily. The stern floorboard has been cut to allow easy access to the floor drains so you can keep your STS10 inflated and not worry about flipping your boat to drain rain water.
Wide Dingy Hull Configuration
For anglers who desire a truly safe and stable boat that can be used in rough or calm waters this boat is an ideal solution. Completely enclosed with inflatable tubes all around it features tremendous buoyancy and sea worthiness with unusually large inside cockpit space both in length and width. Roomy enough for one or two fishermen to fish comfortably for hours at a time.
Rows and Motors Really Well
For a small boat this a really responsive craft. Whether being rowed or powered by a small gas or electric motor this boat moves along very nicely. It can be rowed through rough or calm waters, down wide rivers or swift flowing streams. It can be motored across large lakes and bays. The Sea Eagle Stealth Stalker is a truly safe and stable fishing boat on almost any body of water you take it!
Six Rod Holders
With 4 built-in rod holders and 2 Scotty® mounts and rod holders, you'll be sure to have space for your favorite fishing rods. Scotty® mounts can be outfitted with the included Scotty® Baitcaster Rod Holders or with any other Scotty® accessory - anchors, camera posts, lights, cup holders and more.
Many Ways To Outfit
Like all of our fishing boats, the Sea Eagle Stealth Stalker provides many ways that it can be configured. With just a wooden floorboard it can be packed into remote areas other boats can't get to. When rigged with Scotty™ rod holders and other fishing accessories, pedestal fishing seats and electric or gas motor you can fish for hours at a time yet this boat is still light enough for two anglers to pick it up and walk it several hundred yards to the water. And should there be too much rain, sun or hot blazing weather you can protect yourself with a canopy.
Built-In 40" Fish Ruler
Conveniently located on both sides of the STS10, is a built-in 40" Fish Ruler. A quick and easy way to measure your catch and one less tool to bring along.
Stealth Stalker 10 Hull
STS10 Floorboard Set
Two Green Swivel Seats
Motormount-FPFB
Two Scotty Rod Holders
Two Quick Release Seatmounts
Two 7" Pedestals
AB285 Black Oar Set
Boat Carry Bag
A41 Foot Pump
Side/Stern Stow Bag
Repair Kit
---